Coffee Sample Roaster – Sample PRO 100
Ideal for quality assurance in your coffee lab, for demonstration and training purposes in your coffee shop or simply enjoyed at home!
Our coffee sample roaster allow for complete roasting flexibility for small capacities of 80-100g. Traditionally, these mini roasting machines are the preferred choice of coffee exporters, importers, traders and roasters as a means to perform quality inspection of samples intended for purchase.
Built to resemble the larger industrial drum roasting machines, it also makes the ideal roaster to learn the art of roasting. The solid drum provides the user with an even coffee bean development and uniform roast. Both, control over gas supply and airflow, enables the user to obtain the desired roasting time lying between 8-15 minutes.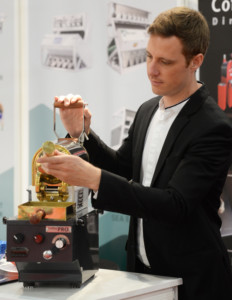 With an increasing number of individual coffee shops and micro roasters that have a high demand concerning their end product, this handy tool has become increasingly popular as a means to:
Learn about the roasting process before making investments into a larger shop roaster.
Demonstrate the roasting process to your customers or even let your customers try to roast by themselves.
Create a more distinguished coffee atmosphere with increased coffee fragrance.
Conduct training courses and for instance present sourcing, roasting and cupping skills directly to the public.
Since In the end it boils down to the cup, our coffee sample roaster is the perfect companion to produce fresh drum-roasted samples the genuine way.
Select one, two, four or six drums, depending on your needs. Both, electric or gas heating options are available. Each roaster is engineered for optimal safety, easy maintenance and cleaning. Single drum roasters are equipped with an additional thermocouple for data logging.
Additional features include:
Single or multiple drum configurations for roasting small batches (up to 100g per drum)
Individual air, heat and cooler controls, allowing for different roasting parameters on each drum
Digital temperature indication and regulation for each drum by desired peak temperature (heat source switches on and off via solenoid valve; +/- 2°C)
Gas or electrical heating options
Separate chaff collecting cyclone and cooling fan (for 2, 4 and 6 drum models, optional for 1 drum model)
Front-access cooling tray and green bean feeder included
Includes timer for each drum to precisely manage your roast
Each machine includes a maintenance tool-kit
Choose between the following colors: